Fishing Trips by the Professionals

We've been running fishing trips in Gambia for years now and we like to think we know what we are doing. Our trips are designed to suit our clients' preferences. If all you need is good tips on where to fish and transport to get you there, that is what we will provide. If you want a fully-organised trip with an itinerary, breakfast, lunch, bait and help with your technique, we will be happy to arrange it.
Full-On or Fun

Whether you want a serious day's fishing or a great day out with you buddies, family or partner, we can tailor your trip to suit you. We can deliver the dedicated pro to a remote spot with the chance of a big fish or a particular species. If you want your guests to have a good time too, we can base your day in an area with more comfortable facilities.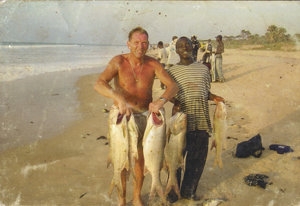 Better Luck Next Time

Here's our web designer Dave with a catch. Its a lady fish and was just about enough for lunch!